GET INSPIRED
CREATE
ENHANCE
OPTIMIZE
ADVANCE
GET INSPIRED
SEE HOW APPBOY CUSTOMERS ARE INCREASING
ROI WITH
BETTER PUSH
URBAN OUTFITTERS CONNECTS ONLINE AND
OFFLINE BEHAVIORS
Urban Outfitters used Appboy's integration with PlaceIQ to
gain insights into real-world user behaviors. These insights inspired more relevant push messaging, resulting in a 146% increase in revenue!
SHUTTERFLY KEEPS TIME-SENSITIVE DEALS
TOP OF MIND
Shutterfly engaged users with well-timed, Appboy-powered push notifications that provided special offer codes for time-sensitive promotions and other one-time deals.
DELIVERY HERO ENGAGES ACROSS
34 MARKETS GLOBALLY
Delivery Hero used Appboy-powered push notifications to increase engagement, personalize messaging, and create a 20x uplift in average conversion rates—from Korea to Columbia.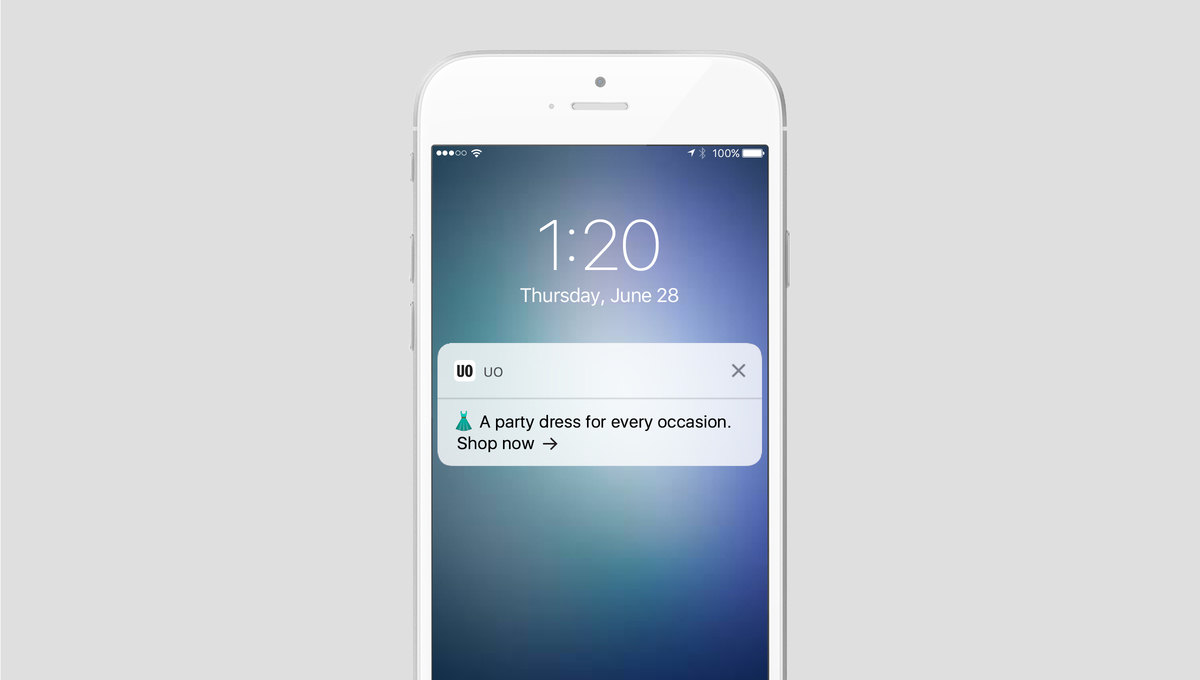 CREATE
POWER BETTER PUSH WITH INDUSTRY-LEADING TOOLS
AND RESOURCES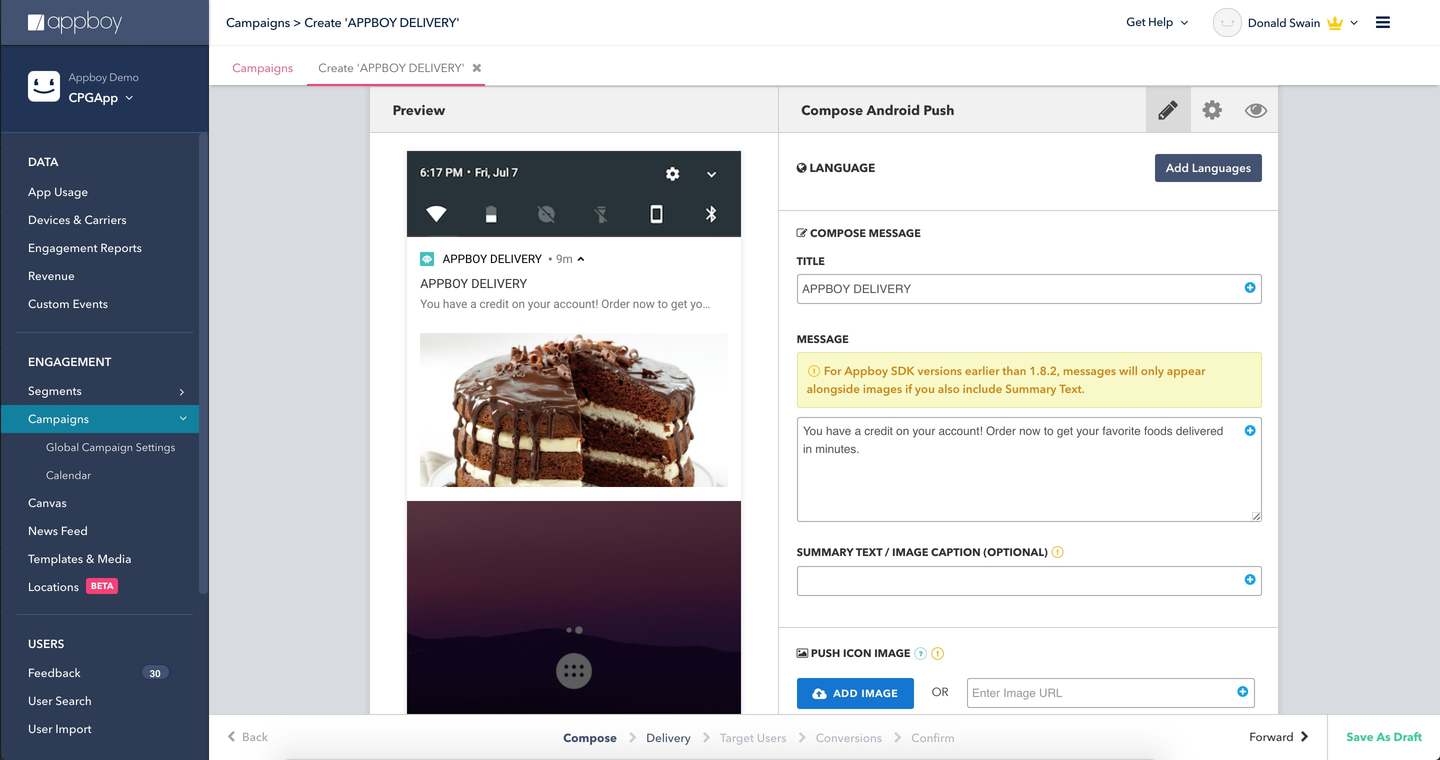 BUILD EASILY WITH A CENTRALIZED SENDING ENGINE
Appboy's all-in-one engagement platform lets you send transactional, triggered, and promotional push notifications in milliseconds, at scale.
PREVIEW AS YOU BUILD
Review push notifications with live previews across platforms. As you map out your customer journeys, use Appboy's robust QA functionality to test how each notification will look to users.
INCREASE RELEVANCE WITH ARTIFICIAL INTELLIGENCE
Deliver the right push notification at the perfect time—all the time—with our Intelligence Suite. Create personalized messaging that's sure to make an impact using AI-powered predictive analytics
and visualizations.
ENHANCE
BUILD RICH PUSH TRIGGERED BY USER EVENTS
AND ATTRIBUTES
USE PERSONALIZATION & SEGMENTATION
Segment and contextually personalize push notifications and in-app messages with public and private APIs and user profile data like attributes, events, devices, send-time preferences, geotargeting data, and more.
CREATE COMPELLING MESSAGING WITH RICH MEDIA
Capture user attention by adding images, animated GIFs, and videos within mobile push notifications.
BOOST ENGAGEMENT WITH PUSH ACTION BUTTONS
Ask questions or make suggestions in your push notifications and get clear answers from customers using action buttons. Add up to four customizable buttons to encourage direct user responses.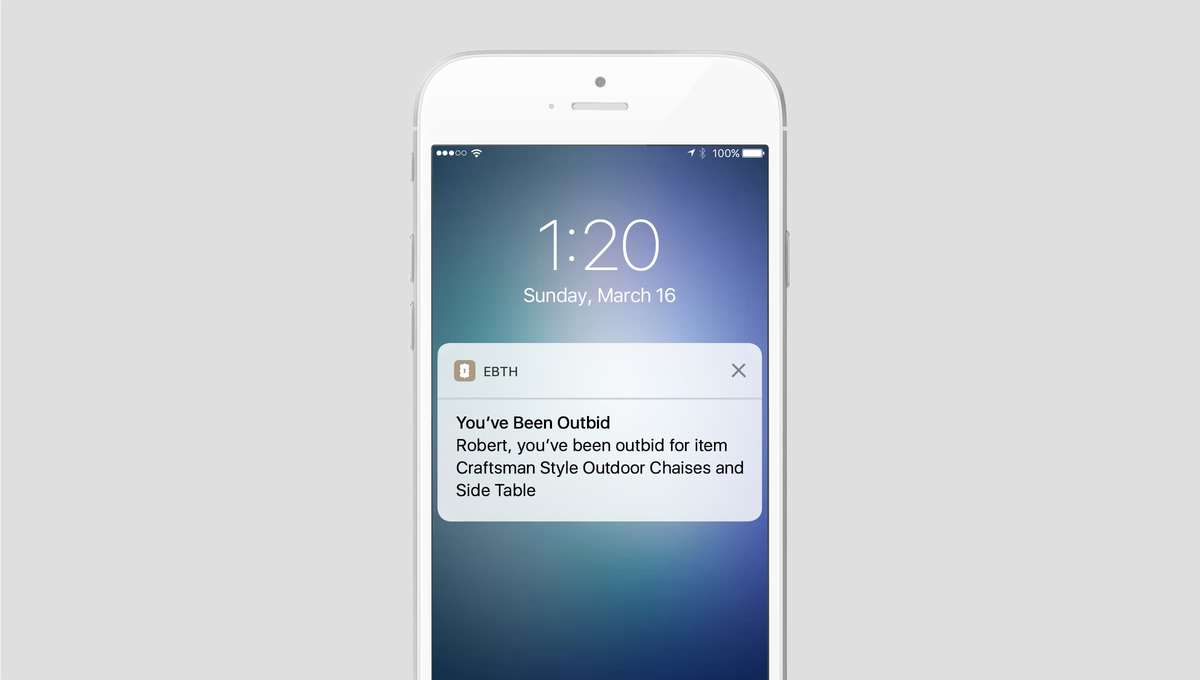 OPTIMIZE
EVOLVE YOUR IMPACT THROUGH EXPERIMENTS
AND ACTIONABLE INSIGHTS
COLLECT DATA WITH
ADETAILED REPORTING
View comprehensive reports for your push notification and in-app message campaigns, plus get a cross-channel view with our robust analytics tools.
GAIN INSIGHTS THROUGH EXPERIMENTATION
Test push message variations, send times, paths along the journey, and more, using conversion events with Canvas.
INCREASE CONVERSIONS WITH OPTIMIZATION AND DEEP LINKING
Increase the chances of push-triggered conversions using results from multivariate tests. Then, connect high-performing notifications to relevant pages within your app or site with
deep linking.
ADVANCE
ELEVATE THE CUSTOMER JOURNEY WITH
BETTER EXPERIENCES ACROSS CHANNELS
ACHIEVE MORE WITH BETTER EMAILS
Craft beautiful email campaigns with enterprise-grade solutions, predictive analytics, creative tools, and expert support from the Appboy Success Team.
REACH MORE USERS WITH WEB PUSH
Engage web users on mobile and desktop with relevant and personalized messages using Appboy's single, unified view of each customer.
BUILD AND VISUALIZE SMARTER PATHS WITH CANVAS
Create dynamic user journeys using powerful, intuitive, highly-visual software uniquely designed for customer lifecycle management mastery.
SAVE TIME AND GAIN ACCESS
WITH CURRENTS
Seamlessly connect Appboy to your data warehouses, business intelligence tools, and other layers of your marketing technology stack with Currents, our real-time data export tool.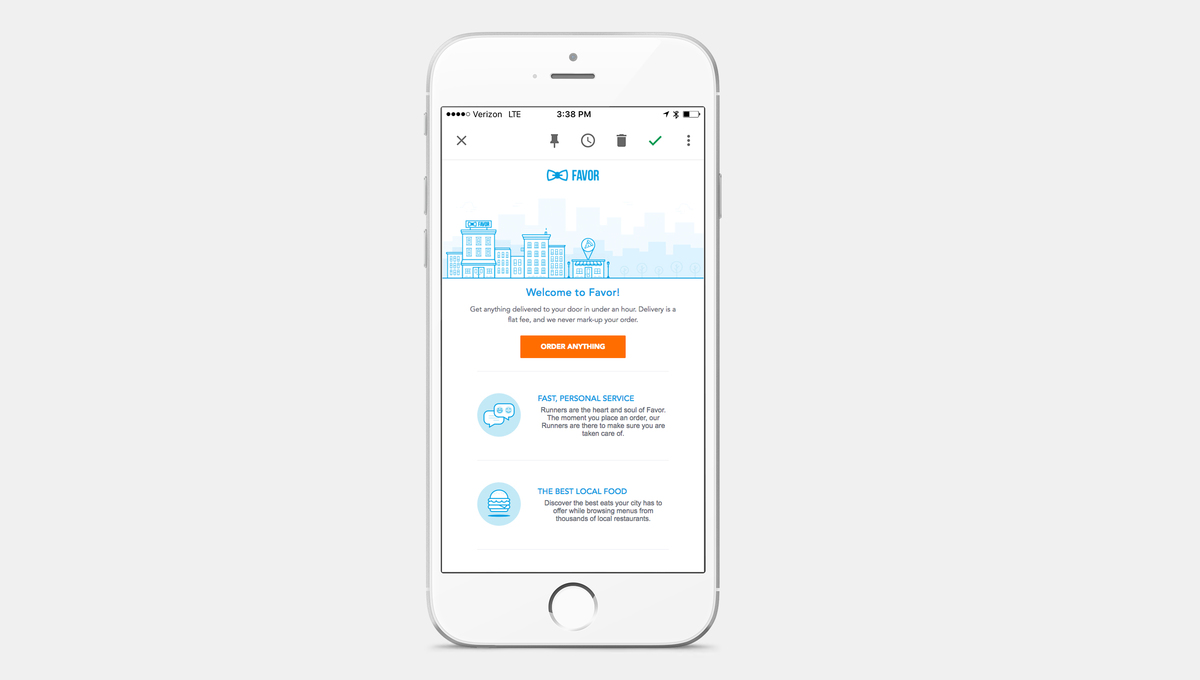 [We] saw an extremely high number of engagements per [push] notification and subsequently higher traffic...We are looking forward to a long partnership with Appboy.
Reena Puri,
Epix
When you work with Appboy, you work with a team that's agile and will get you integrated within days, not months. All it takes is an all-in-one lifecycle engagement platform to transform your marketing.
Request a demo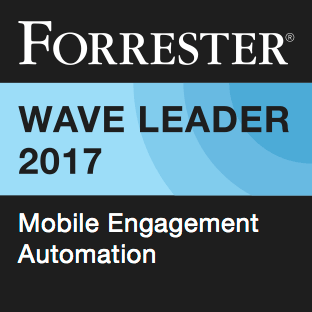 "Any firm seeking a best-of-breed, scalable solution with a 
robust technology road map should consider this vendor."
The Forrester Wave: Mobile Engagement Automation™, Q3 2017 evaluation
Get the Full Report